New home construction in Massachusetts. Serving Worcester, Auburn, Millbury and beyond. Energy Star certified.
One of the Largest ENERGY STAR Home-Builders in Massachusetts

For over forty years, Gallo Builders Inc., has been constructing high-quality homes for families throughout the Worcester County area. From charming starter-homes, to luxurious 5,000 square-foot estates, Gallo Builders is dedicated to providing an unmatched level of quality-construction, and a strong commitment to professionalism. Gallo Builders has been building ENERGY STAR homes in Massachusetts for over twenty years.
ENERGY STAR Certified Homes Special Recognition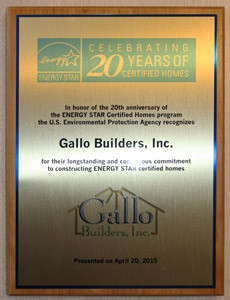 In celebration of the 20th anniversary of the ENERGY STAR Certified Homes program, Gallo Builders inc. has received special recognition for their longstanding and continuous commitment to constructing ENERGY STAR certified homes
Sign up for our newsletter

Authorized Dealer